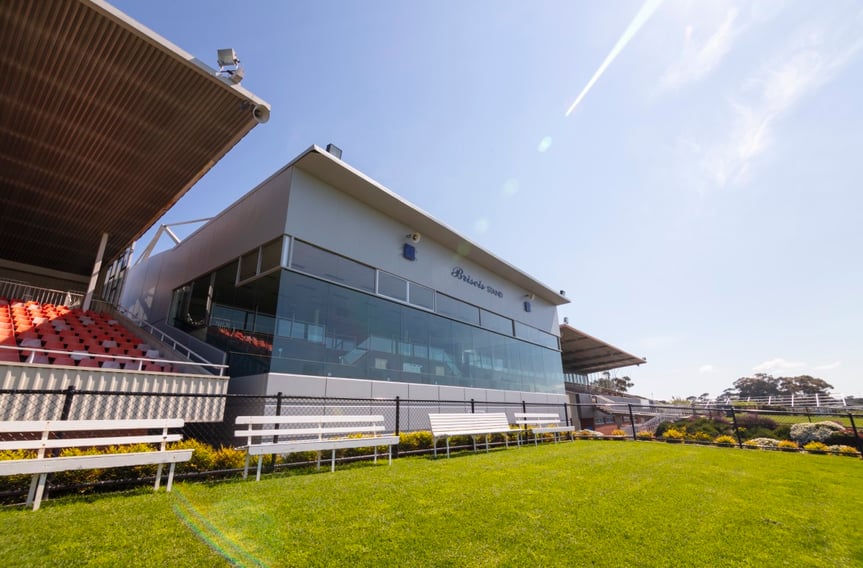 Over recent years, our various Victorian branches have been thrilled to work with some of their favourite clubs, particularly in Geelong. Now, we're continuing our love for sports by teaming up with the Geelong Racing Club.
The Geelong Racing Club dates back to the 1840s and is home to the only Victorian track that holds a horse race during the Flemington Spring Carnival. The Geelong Cup, though a qualifier for the larger Melbourne race day, is an iconic event on its own, and sees visitors and attendants from across the country. Our partnership with the Geelong Race Club has begun with an exciting project. Over the course of a month, our local team modernised and rejuvenated the club facilities. The project also included an entire repaint of the Club's internal and external grandstands. We recently caught up with Geelong Race Club Chief Executive Officer, Daniel Salter, for a quick "Q and A".
Why was repainting your facilities important to the Club?
It had been many years since the Geelong Racing Club grandstands had received a lick of paint. It is important to make sure the facilities look their best for the members, corporate clients, and the public who visit them. It is also important to protect them from the elements.
Why did you choose Higgins ahead of other contractors to perform this service?
Higgins provided very competitive pricing during the quoting process, and their service and detail was very impressive, which made it an easy choice to work with them.
How has the upgrade in the look of the facilities been received by members and patrons of your Club?
The painting has really made a difference to the appearance of the facilities. They almost look brand new. Feedback from members and guests have been really positive.
How short are the turnaround times that you require for your facility's upgrade projects, such as repainting projects?
The Geelong Race Club required works to be completed in between race meetings so as not to interfere with customer experiences. Higgins delivered in making sure works were done on budget and on time.
Would you recommend Higgins to others seeking painting contractors and why?
I would certainly recommend Higgins for any commercial painting jobs. They provide great service, quick turnaround times and quality workmanship.
- Daniel Salter - CEO, Geelong Race Club
Keeping buildings looking fresh often means working with outsourced professionals for painting and maintenance work. At Higgins, we've been in this business for 70 years and can take on jobs big and small. To receive a free paint condition assessment of your Australian commercial building, complete this form. The assessment will give you clear insight into any paint defects your property may have and how to mitigate them.
Higgins Coatings is Australia's premier commercial painting contractor with over 70 years of experience in providing cost-effective painting and tailored maintenance solutions to a broad range of industries including hospitals, aged care, schools, and strata. If you need quality painting services delivered on time and within budget, contact us today for a consultation.