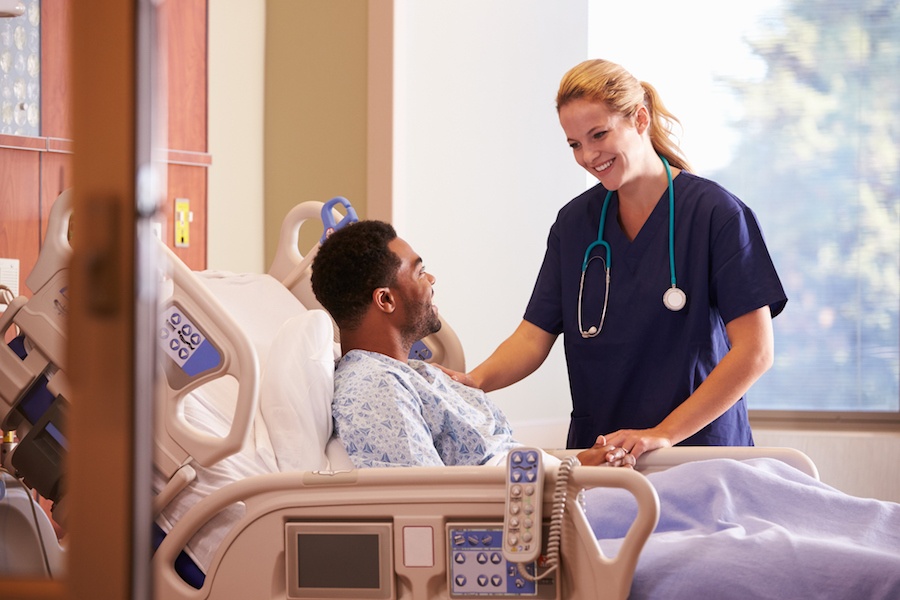 Finding a top-notch maintenance painting solution for your hospital is one of the biggest challenges of a Facilities Manager. You're trying to complete the project on a limited budget, with minimal disruption to the day-to-day operations, and taking into account the comfort and safety of your patients and staff.
The last thing you need is a project to be delayed, finished over budget, or to have inexperienced contractors creating a less-than-hygienic work environment that could lead to a potential break-out.
Sure, it's a tough job. And right now, you're probably feeling pretty tempted to put it off for a few more months. But as difficult a job as finding a good maintenance painting solution is, it is also one that is vitally important to the hospital's reputation. After all, a shabby-looking hospital won't inspire much confidence in your patients.
So, how do you go about finding a solution that gets the job done on time, on budget, and with as few disruptions as possible? Here are the two main things to consider when deciding on the best maintenance painting solution.
1. Choosing the right paint
When deciding what type of paint will be best, it's important to consider the following:
which sections of the building you're wanting to paint
what the objectives are for painting that area (e.g. durability, washability, fast-drying, eco-friendly, sanitation, etc.)
what your overall budget can accommodate.
For example, while enamels are more hard-wearing and easily washable, they tend to be slow-drying and more expensive, which may not suit your schedule or budget, in which case you may prefer to go with an acrylic paint, which is fast-drying and generally less expensive.
You may want to consider using paint with MicroBan technology, which gives the paint antimicrobial properties that can actually fight against harmful bacteria like E. coli, Salmonella, Listeria and Golden Staph, helping to reduce the risk of healthcare-associated infections (HAIs).
It's also worth trying to select low- or no-VOC (volatile organic compound) paints if patients and staff will remain on-site during the work, as paints with high levels of VOCs have much stronger odours and fumes which can potentially have respiratory, allergic or immune effects on people.
2. Choosing the right contractor
A contractor can really make or break a maintenance painting solution, so it's important to do your research and ask the right questions before signing on the dotted line.
Remember, the cheapest quote isn't always the best one – you want to make sure the job is high-quality and durable, and that your budget isn't going to take another big hit for quite some time, so consider how long the work will actually last. Some questions that you should ask include:
Are they knowledgeable?
Your contractor should be able to talk you through the merits of each paint option and make a recommendation that best addresses your specific needs. In particular, they should be highly knowledgeable about paints with Microban technology and low- to no-VOC content.
They should also be highly knowledgeable about workplace health and safety – after all, you don't want your painting solution creating more work for the hospital in the form of patients! Ask about their safety procedures, which should be well-defined and highly detailed.
Are they flexible?
When choosing a maintenance painting solution for a hospital, you want one that is going to have the least amount of impact on the hospital's daily operations.
That is why it is important to look for a contractor who can work flexibly, so that the work can be done during those times that the hospital is least busiest. Draw up a schedule of ideal work times and ask your contractor how willing and able they are to adhere to those times.
Are they reliable?
On top of being able to adhere to a flexible schedule, they should also be able to provide a guarantee that the job will be done on time and within the scope of the brief.
The best contractors have systems for giving stakeholders regular updates throughout the project to check that expectations are being met, and that everyone is completely informed about upcoming work.
This is particularly important for minimising risk, as they will be able to tell you which areas of the hospital will be affected and at what times, giving you ample opportunity to make arrangements to ensure your staff and patients' safety and comfort.
Are they experienced?
Providing a hospital with a maintenance painting solution is a big and expensive task, with lots of logistics to consider, so it's worth asking your contractor if they have had prior experience with hospitals before. If they have, you might consider calling the Facilities Managers at those hospitals and asking them how satisfied they were with the results. You want to feel 100% confident that the contractor can meet your needs.
A maintenance painting solution is a great way to keep your hospital looking like new, while helping you save money by spreading out the costs over a longer period of time. It is, however, a long-term investment – so be sure you're making the right one.
Think your hospital might be in need of a refresh? Contact us for your free paint assessment of your property today!
Higgins Coatings, an ISO tri-certified accredited painting contractor, offers painting services for many of Australia's hospital and healthcare facilities. Our team takes safety, quality, and delivering work on time and within budget as seriously as you do. Contact us today for a consultation.