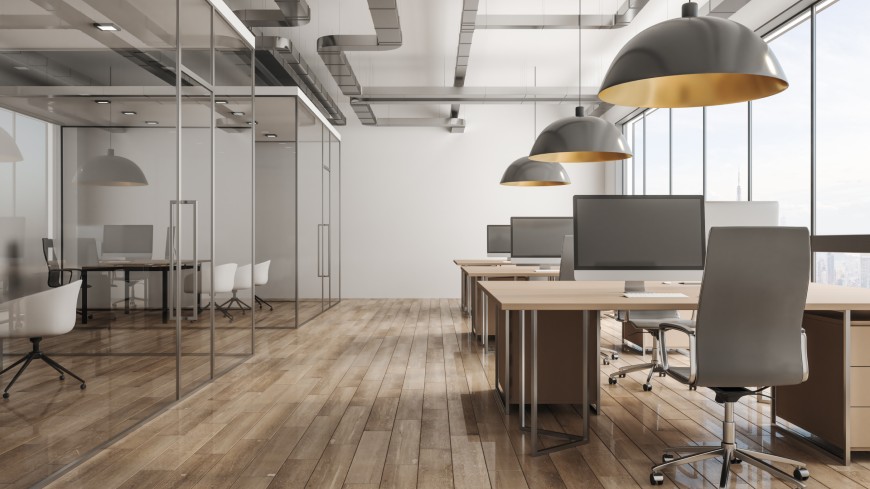 Commercial property was one of the most significantly impacted infrastructure sectors due to the coronavirus, according to an Infrastructure Australia report. Reduced demand for hotels and offices, lower retail foot traffic, and additional pressures around workplace social distancing and infection control were just a few of the major challenges to attracting commercial tenants.
Additionally, now that workers have had a taste of the benefits of remote work, many are keen to continue working from home at least partially, with one study reporting that up to 69% of workers would prefer to work remotely 2-3 days a week. Additionally, many would also like to see changes in office designs that promote healthier and more purpose-built workspaces.
As businesses adopt hybrid working models that combine remote and on-site work, commercial buildings will need to adapt quickly to attract new commercial tenants and retain existing ones. For commercial property managers, this means easing people's anxieties about hygiene in shared environments, offering new workspaces that meet the changing needs of businesses and, more generally, tempting people back to the workplace with added perks and benefits.
Here are our top five strategies for attracting commercial tenants in the post-pandemic world.
1. Start regular building sanitisation
Sanitisation will likely be an area of concern for workers in shared environments for a long time. While you no doubt have introduced hand sanitiser stations and increased cleaning, another way to set your commercial building apart from others is to introduce regular building sanitisation.
An antimicrobial sanitising service can kill germs in your building using fogging technology to disperse the disinfectant evenly across all surfaces. When performed regularly as a preventative measure (eg. monthly), it can provide a much-needed confidence boost for your tenants that every surface in your building is being properly cleaned.
Best of all, you can also now choose sanitising services that provide long-lasting protection between each clean. While a traditional disinfectant will only kill germs on first contact with the surface, long-lasting disinfectants form an antimicrobial barrier that continues to work for days or weeks afterwards, killing new germs that come in contact with the surface.
2. Offer new spaces or pricing models
New hybrid models of working are more likely to see employees coming into the office for meetings and collaborative work, rather than tasks they can perform easily at home. While the traditional office dedicated as much as 70% of floor space to desks, this could fall to as little as 30%.
So now's the time to get creative with your building, especially if you have current vacancies. Could you convert some of your floor space into additional meeting rooms or breakout spaces for teams? What about offering co-working spaces, such as hot desks or reservable meeting rooms, for businesses that no longer want to commit to renting a whole floor or suite?
As the way we work changes, commercial property managers will have to be more flexible in allowing tenants to contract or expand as needed, so the faster you jump on board with innovations that support this, the better you will fare.
3. Go green
Choosing green products and processes is not only good for the environment, but it's also a huge drawcard for new tenants. In fact, sustainable commercial buildings have been shown to have 56% lower vacancy rates and offer a 13.4% increase in net income, according to the Green Building Council of Australia. This is thanks to the numerous financial, productivity and wellbeing benefits that sustainable buildings offer businesses, including:
Up to 52

%

increase in productivity due to improved ventilation and lighting
Up to 76

%

increase in worker wellbeing and perceived productivity
40% increase in sales in retail environments
Lower energy costs thanks to energy-saving lighting, heating and cooling solutions
Improved business reputation
Turn your portfolio green with these 8 green building maintenance tips for commercial properties.
4. Invest in some office perks
Let's be honest, there are a lot of perks to working at home - the non-existent commute, the fully stocked kitchen, the comfy couch and the relaxed dress code. So when it comes to attracting commercial tenants, it doesn't go astray to invest in a few perks to make your building more welcoming and attractive to people.
What you can offer will depend on a number of things, like your budget and floor space, but a great place to start is with a survey of your tenants. Ask them what they'd appreciate having around the building before you go and invest in a ping pong table that everyone will forget about in two months. Some ideas to consider include:
A good quality coffee machine
A well-stocked fruit bowl
Free breakfast once a week
A lounge or social area where people can take a break/socialise during the day
On-site showers so people can ride to work
Bike racks
Allowing people to bring in their pets
Making it easier to access the building at non-standard hours to enable flexible working
An event space that tenants can book
5. Give your building a makeover
Does your building need a makeover? If you have any maintenance issues that need addressing, or if the general appearance of your commercial building is tending towards the drab, dated, or uninviting, then you need to act now. Our physical environment affects how we work, so providing a well-maintained building is critical for attracting commercial tenants.
While new artwork on the walls or plants around your building can definitely help, one of the best ways to give your building a refresh is with new paintwork. Paint is one of the first things people notice when they look at a building. Not only can a new coat help you stand out on the street, but it can also transform the atmosphere inside your property and boost productivity levels through colour psychology.
With these five strategies in place, we're sure you'll have tenants walking through the doors again!
Paintwork can be one of the most expensive and challenging projects for commercial property facilities managers. But don't worry - we've got you covered. In our comprehensive guide to painting commercial buildings, you'll learn everything you need to know for a high-quality, long-lasting and cost-effective result. Download it today.
Higgins Coatings is Australia's premier commercial painting contractor with over 70 years of experience in providing cost-effective painting and tailored maintenance solutions to a broad range of industries including hospitals, aged care, schools, and strata. If you need quality painting services delivered on time and within budget, contact us today for a consultation.