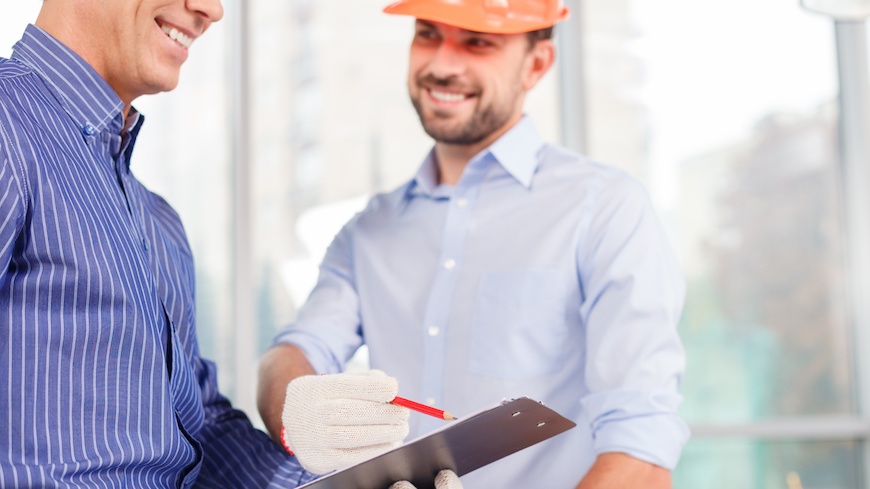 Hiring contractors to carry out repairs and maintenance is all in a day's practice for any busy Strata Manager or committee member - but it can be risky. A simple task like hiring a plumber to complete repair work can go horribly wrong, leaving a Strata Manager or their committee in, err, deep water if found negligent. But what is the best way to minimise your property's risk when hiring a contractor?
We've all heard the horror stories. Even a simple routine repair can go sideways quickly if risk assessment precautions aren't taken and completing the due diligence has been skipped before hiring the contractor. It can be a very stressful and expensive exercise.
A report compiled by Safe Work Australia found that 182 workers were fatally injured at work in 2016. 42 per cent of those were vehicle related, 9 per cent were hit by moving objects and 14 per cent died when falling from height. And while you may think it won't ever happen to you, the potential risks on your property with hiring a contractor can be very real for those Strata Managers and committees who don't dot their 'i's and cross their 't's.
While workplace health and safety legislation varies from state-to-state, the overarching basics remain the same in order to protect people while at work. Working at Heights is one of the most common risk areas, and Strata Managers and their committees need to be thorough when it comes to assessing the risks and completing their due diligence when selecting a contractor.
Here are some things that every Strata Manager and committee needs to know about workplace health and safety, and to complete your due diligence when hiring a contractor:
Scrutinise the Quote: When you get a quote for a job, be sure that your committee goes over the fine details. If the contractor hasn't provided a detailed quote, be prepared to ask some follow-up questions. For example, there's a two-metre height rule that means that anything worked on over two metres requires appropriate fall protection, has this been considered in the quote? By reviewing the details of the quote you can make sure that the contractor hasn't cut corners, so always ask questions about how they intend to carry out the work safely.
Check Insurances: It's imperative that a hired contractor is properly licensed or that their licences have not lapsed. If it's not included with the quote, ask for a copy of their insurance policy to ensure they're fully covered in the unlikely event of an incident, and keep a copy for your own records. While you're at it, double check that your own insurances are fully up to date, too. Don't be afraid to ask for a few examples of similar work that they have done, and do some basic research on the company to see if there have been any incidents in the past. It's also recommended to ensure contractors have the correct licenses to carry out the jobs they are being hired to complete.
Get a risk assessment from the contractor :

When discussing a proposal with a contractor, ask them for an example of a risk assessment they have completed for a similar type of project. A reputable contractor will be more than willing to provide one to indicate what controls they are planning to implement to maintain safety on site.



Stay Involved: Be sure to stay involved during the works and, if it's a larger job, engage stakeholders regularly for updates with a meeting. It's in a Strata Manager and committees best interest to make sure the works are being carried out as planned and in line with the Workplace Health and Safety Act. Will there be interruptions to residents during the works? Are there proper detours and signage available during the job? These are just some of the questions you need to be across.
Why is due diligence important when hiring a contractor?
If there's an incident or injury, a workplace health and safety inspector will likely come on site and ask the Strata Manager or committee members many questions, including how they went about engaging and hiring the contractor. They'll also ask if they sighted the risk assessment, and at what level of detail they went into to demonstrate due diligence and avoid risks.
Be sure to do your due diligence with every contractor that you hire, and take the time to fully understand everything that you need to know to protect not only yourself as the Strata Manager, but the body corporate, residents and the contractors themselves. A comprehensive due diligence process for engaging contractors and minimising property risk will form part of the Strata Manager's best practice for operations.
Is your premises in need of some work? Download our free Best Practice Guide for Strata Managers so you're up to date with everything you need to engage a painting contractor.
Higgins Coatings is Australia's premier commercial painting contractor with over 65 years of experience in providing a cost-effective painting service and tailored maintenance solution. As the preferred painting contractor for the Strata Community Association (SCA), we help strata managers plan their painting requirements and execute them with minimal disruption to residents. Contact us for a consultation.