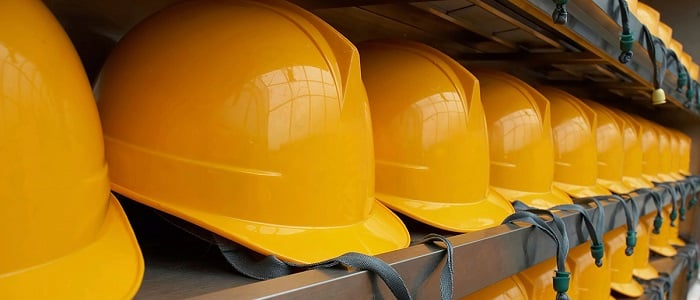 Did you know that in Victoria, Australia, only a qualified electrician is allowed to change a lightbulb? According to one Mail Online article, anyone else wanting to try this daring feat is at risk of being charged a small fine.
And then there's the Cheshire Police in the UK who, at one stage, were are all required to pass a cycling proficiency test before they could go out on their bicycle patrols – all for work health and safety reasons. Yes, that's right, grown policemen and women first had to prove their proficiency in bicycle-riding before being permitted to go on patrol to catch the 'bad guys'. We picked this little titbit up from a Daily Record post.
While the above health and safety procedures seem a bit extreme, some rules are understandable – like the one passed at a funeral parlour that prohibits staff from hiding in the caskets to scare the new recruits. After one trainee had a heart attack from such a scare (which he fortunately survived but never quite got over, says this AOL blog), it make sense that such staff behaviour was quickly put to an end.
Why the fuss about occupational health and safety though?
The overzealous, unusual and sometimes very necessary health and safety procedures and regulations described above stand in strong contrast to what was considered fair and acceptable conditions for workers prior to the19th century, when there were, in fact, very few regulations and rights in place to protect employees, and no workers' compensation, whatsoever, for any injuries received on the job.
A National Archives post on the 1833 Factory Act, indicates that, up until the early 1830s, British children under the age of nine were allowed to work in factories for more than nine hours a day, and often into the night, with little thought given to their safety, or developmental health and wellbeing.
"So, what shifted things?" You may ask
According to an Inspire Education news piece, improved health and safety regulations are mostly the result of an incident in Australia in 1956, when employees sued and won a case against their employer for injuries received in the workplace. Since then, appropriate safety procedures and regulations have been been steadily introduced, and, as workers' rights have increased, stringent adherence to occupational health and safety standards has become quite a serious thing.
The value of occupational health and safety in the construction industry
There are many occupational hazards that come with construction work and work in the painting maintenance industry. The National Institute for Occupational Safety and Health (NIOSH) reports that falls are the leading cause of construction-worker fatalities in the industry. These falls most often occur from roofs, ladders, structural steel, scaffolding or non-moving vehicles.
Numerous Fall Prevention Campaigns have been initiated across the globe to educate construction workers on the merits of following safety procedures while working from heights. At Higgins Coatings we follow a set of stringent safety procedures when doing maintenance painting work from elevated work platforms (EWPs) or scaffolding. This is both to protect ourselves and to make sure that we protect those around us as we work.
We also conduct a worksite risk assessment before taking on any project so that we know what potential hazards to mitigate and what control measures to recommend or implement before starting work on a site.
Feel free to contact us for more information about the type of safety procedures that painting contractors like Higgins implement and follow to prevent unnecessary work-related injuries and fatalities.
Image credit: Yellow Pages