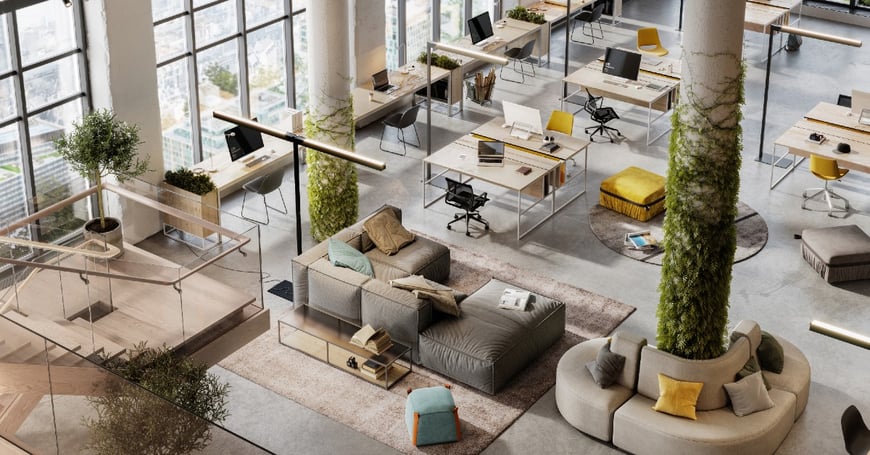 Keeping up-to-date with the latest design trends is crucial for commercial facilities managers. Not only can design help breathe new life into a space, but it's also effective in attracting and retaining tenants. With that in mind, here are our top commercial design trends that will help you make a lasting impression. From sustainable design, to colour psychology and texture, we'll explore everything you need to know to keep your commercial property looking its best.

Sustainable design
Sustainable design has become a vital consideration for commercial spaces. As people are increasingly aware of their environmental impact, green buildings have risen in popularity, especially as they contribute to lower operating costs. According to the Green Building Council of Australia, green buildings consume 66% less electricity and 51% less water than average buildings. This leads to significant cost savings for tenants over the lease lifespan, raising the property's overall appeal. Plus, green-rated buildings can enhance occupant health and wellbeing with reports showing lower rates of employee absenteeism and higher rates of productivity.
Likewise, eco-friendly paints and coatings are increasingly popular commercial design trends - and are a great way to demonstrate your commitment to sustainability. Eco-friendly paints are typically formulated with fewer chemicals and more natural compounds, resulting in reduced or eliminated odours and a safer environment for occupants of your space. They are also produced using eco-friendly production processes, with a lower carbon footprint and environmental impact. Some examples of eco-friendly paints that are gaining popularity include low VOC paints with lower chemical emissions.
Bold and vibrant colours
After several years of subdued and neutral colour trends, bold and vibrant colours are becoming increasingly popular, and for good reason. Not only can they help transform an otherwise dull space, but they can also elicit specific emotions and feelings in people. For example, blue is known to improve concentration and productivity, while yellow is known to boost innovation, creativity and energy. It's important to understand the psychology of colour when choosing paint colours for your commercial space.
But there are some cautions when it comes to using bold colours. It's crucial to consider your brand image and how those colours reflect it. In today's competitive landscape, it's more vital than ever for brands to stand out and be recognised - but not to the detriment of your patrons. Not all people respond well to bold and vibrant colours, making it important that commercial facilities managers think strategically before painting.
Textures and patterns
Minimalism is on its way out, while textures and patterns are coming in hot as one of the biggest commercial design trends. Using textures and patterns in your commercial space can add interest and appeal by creating visual contrast and breaking up the monotony of a plain surface. They can also create a sense of movement and flow within your space when employed correctly. For example, a textured wall can add depth to a room, making it feel more comfortable.
That said, it's important to incorporate textures and patterns tastefully so as not to create an overstimulating space or have clashing elements. One way to achieve this is to choose a consistent texture palette, so that they work together harmoniously. You should also consider the overall aesthetic of your space and ensure the textures and patterns reflect your brand. For example, a high-end coffee shop might use darker, warmer textures and patterns to align with their product, while a shared office space might opt for monochromatic textures paired with bright-coloured feature walls, accompanied by metal and glass accents.
Why you should keep up with commercial design trends
The importance of keeping up with the latest commercial design trends cannot be overstated. By incorporating sustainable design, colour psychology and texture, you can create an inviting space that not only looks great, but also attracts and retains tenants. As the world continues to prioritise sustainability, eco-friendliness and productivity-enhancing environments it's clear that these trends will continue now and into the future.
Paintwork can be one of the most expensive and challenging projects for commercial property facilities managers. But don't worry - we've got you covered. In our comprehensive guide to painting commercial buildings, you'll learn everything you need to know for a high-quality, long-lasting and cost-effective result. Download it today.
Higgins Coatings is Australia's premier commercial painting contractor with over 70 years of experience in providing cost-effective painting and tailored maintenance solutions to a broad range of industries including hospitals, aged care, schools, and strata. If you need quality painting services delivered on time and within budget, contact us today.