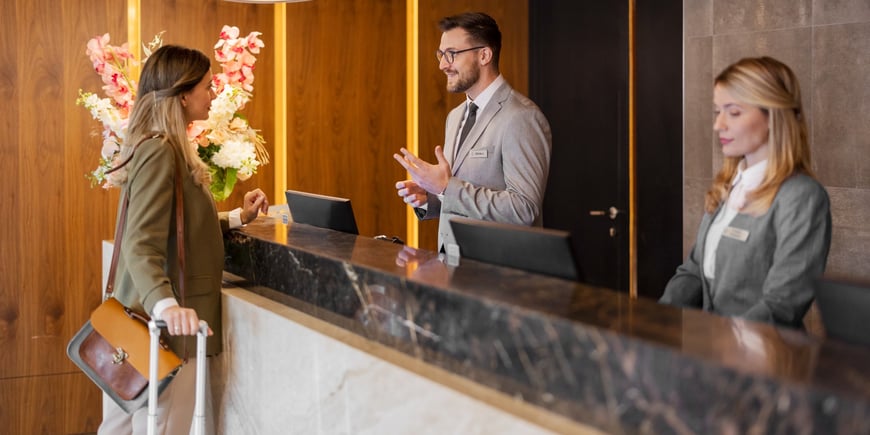 From the moment a guest enters your hotel lobby, you want them to feel a sense of warmth, comfort and ease. Excellent facilities; well-trained staff; clean and comfortable rooms - these elements all go without saying - but did you know that a new hotel paint project could also play a major role in influencing how your guests feel?
Know your guests
Whether it's a family taking their first trip together, a couple celebrating a special occasion, or a business professional gearing up for their next big meeting, hotel guests are there for a specific reason. So, it's easy to think they probably haven't paid attention to the colour of your walls.
But the truth is that the paint on your walls also plays a vital part in customer satisfaction. The colours you choose for your project can impact people's productivity, creativity, concentration and even energy levels. That's why considering colour psychology is not just a matter of well-being, but also makes good business sense.
After all, the happier your customers are, the more likely they are to return, recommend or leave glowing reviews. With that in mind, you should be doing everything in your power to ensure they leave your hotel satisfied at the end of their stay. The more satisfied they are, the more popular your business will become, which means more revenue for you.
Unfortunately, one often overlooked aspect is the paint on a hotel's walls. But, studies have shown that people commonly associate certain colours with specific emotions. Red, for example, has connotations with passion, and anger, whereas green is more rooted in nature and growth. Colour can even influence physiological reactions including your blood pressure and even your metabolism.
The psychology of colour
So what is colour psychology? How does it work? Can it really have an impact? These are all questions probably running through your head now, so let us give you a quick rundown.
While the scientific studies into this area are relatively recent, there has been a long-held belief in the power of colour for many years. Some ancient cultures even used colours in their healing practices to aid the sick. Now - we're not suggesting your hotel paint project can achieve these kinds of results, but it is important to consider your colour choice.
Think about the type of atmosphere that you want to create in your hotel and find colours that match those ideals. Are you looking to project an exciting party vibe or more calm serenity? Choosing a colour to match your desired atmosphere can go a long way towards how your customers experience your hotel. But it's not just about the colour alone, it's also a matter of quality.
The use of eco-friendly products
Picking a high-quality product that stands the test of time and also does the right kind of job is also vital. Ensure you have the right coating for the right material, considering things like whether you require anti-microbial coatings to keep guests safe, or zinc-rich coatings that protect against corrosion all need to factor into your plans.
Another area to consider is the use of eco-friendly paints in your hotel. At a time when the world is becoming more aware of its own environmental impact and there are growing concerns for the sustainability of the planet, showing you are taking these considerations seriously can positively impact your reputation amongst visitors. The benefits of using eco-friendly paint are plenty, but include better air quality, less odour and even lesser risk to human health.
It's all about balance
Maintaining that balance between the right coating and the right colour really can take your business to the next level, ensuring you have a hotel with the perfect ambience and welcoming atmosphere that keeps people coming back for more.
As well as this, certain practical considerations can also have an impact. Thinking about maintenance, like how frequently you need to clean your walls and how durable you need the paint to be, can not only help you save money in the long run but also ease your mind that the job is done right the first time around.
Ultimately, when it comes to your next hotel paint project, it is an exercise in balancing aesthetics with functionality. Taking the time to fully consider all the options in front of you will only end up paying dividends in the future. So remember:
Pick the colour that best suits the mood you want to create: Colour impacts mood, so ensure you consider the atmosphere you want to create and pick a range of colours that influence that atmosphere.
Think about the importance of using the right coating to meet your requirements: Considering the long-term future of the building, and any health and safety requirements will ensure you pick a coating that ticks all the right boxes.
Ultimately, this will not only help your customers enjoy a more positive experience while staying with you, but it will drive the success of your business in the future.
Paintwork can be one of the most expensive and challenging projects for commercial property facilities managers. But don't worry - we've got you covered. In our comprehensive guide to painting commercial buildings, you'll learn everything you need to know for a high-quality, long-lasting and cost-effective result. Download it today.
Higgins Coatings is Australia's premier commercial painting contractor with over 70 years of experience in providing cost-effective painting and tailored maintenance solutions to a broad range of industries including hospitals, aged care, schools, and strata. If you need quality painting services delivered on time and within budget, contact us today for a consultation.