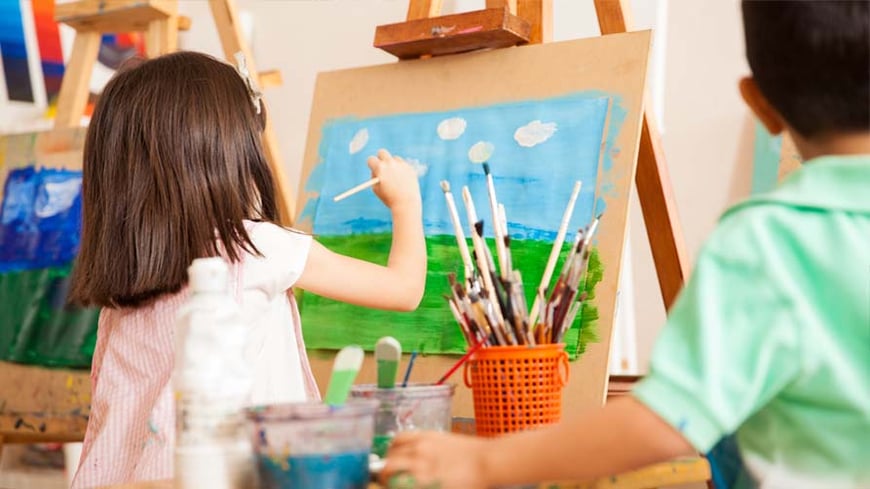 Planning and compiling an effective (and efficient) painting maintenance plan in line with your school's unique requirements hinges on input from you (the business manager), school employees, and crucially, your painting contractor of choice. If a potential provider isn't able to offer you a guideline as to what this entails, or offers you a standard, one-size-fits-all plan, it's advisable to continue your search.
Your responsibility is to make sure that whoever you choose to render these services can do so in a way that, first and foremost, prioritises the safety of your students and employees. Their number one responsibility is to advise you as to the best way to achieve this.
Much like any school-related task, the execution of your painting maintenance relies on gathering the right information, conferring with all relevant parties, and the know-how of an industry expert.
A reputable contractor will advise that you conduct the following four steps before they compile your painting maintenance plan:
Assess the current state of your school property to identify the areas that require urgent maintenance, as well the areas that require minor touch-ups, or those that can be attended to further down the line. It's important to keep the 'bigger maintenance picture' in mind when prioritising your painting requirements to ensure that your painting maintenance plan serves your future needs as well as the most pressing ones.
Discuss planned painting maintenance with stakeholders, such as teachers and board members, to identify the areas or issues that require work.
Take note of up-coming school activities (like an open day, for example) that require urgent attention. Bear in mind, that small painting jobs that won't interrupt daily school operations can be scheduled during term time, but major overhauls and refurbishments are best scheduled during school holidays. This helps to minimise disruptions and ensure the safety of students and teachers.
Identify the most suitable time to have contractors on site,

for maintenance work that isn't required immediately,

.
Once you've conducted an internal assessment, the next step to a stellar painting maintenance plan calls for transparent communication between you and your contractor.
Clear communication is key. Bear in mind that school property maintenance plans can stretch from anything between two and 10 years, which makes working with a company that 'gets' you and your school's requirements, vital. Your contractor should be generous with their time and feedback, and willing to talk you through every single step of the process. They'll compile a bespoke painting and maintenance plan that takes the following factors into consideration:
The school's objectives and the scope of work required (for example, a complete refurbishment of all painted surfaces, the maintenance of existing surfaces, weatherproofing certain surfaces, etc.)
Predicated cost fluctuations and availability of material
Timing and frequency of work required (this will take daily school operations, as well as seasonal factors into account)
Additional considerations (such as school events, urgent maintenance requirements, planned renovations, etc. )
A plan of action that details the services to be rendered during the time frame specified
The above considerations and action points, as well as open channels of communication between yourself and your painting maintenance contractor, are key to maintaining a school property that's safe and aesthetically pleasing.
Enhance your school by prioritising your school property maintenance. To learn more, download our guide, 'Maintaining Your Painted Property'.
Higgins Coatings provides Australia's schools with building maintenance plans, commercial painting, and refurbishment services in select areas. We understand that school facilities need to make a good impression on parents, students, and alumni at all times. Our preventative maintenance plans are designed to keep your school or educational facility looking its best while working within your timing, budget, and safety requirements. Higgins has an ISO tri-certification accreditation in safety, quality and the environment. Contact us today to learn more about our school painting maintenance solutions.