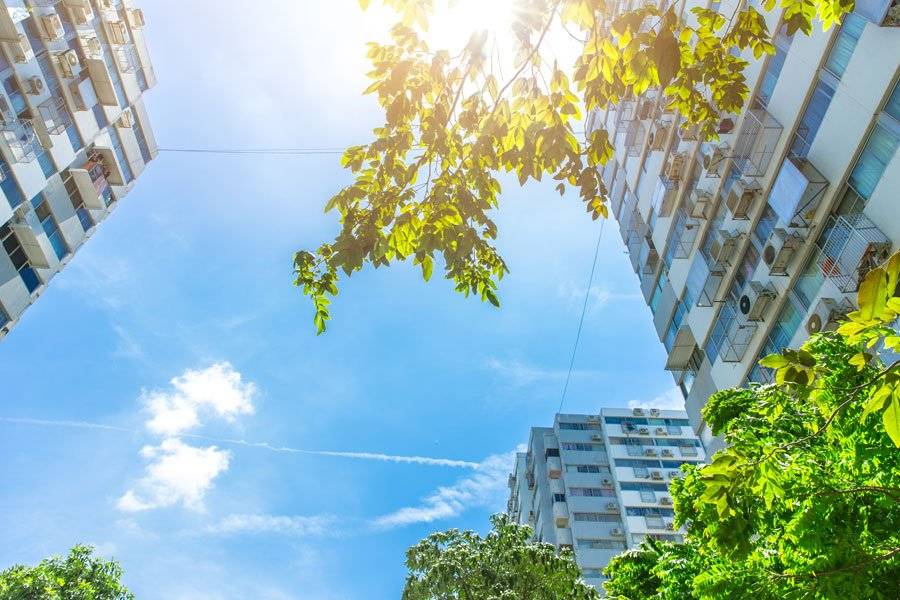 Ensuring your residential building is running sustainably makes sense both financially and environmentally. Residents are looking for sustainable residences to help reduce costs like energy and water bills. They are also becoming more ecologically aware, with most people willing to pay extra for 'earth friendly' products and attributes.
Throughout the 80s, 90s, and most of the 2000s, electricity prices tracked reasonably closely to general consumer price trends. In the past decade, however, electricity prices have shot up alarmingly.
Your residents already know this though, they are feeling the increase at the hip pocket. So, as a strata manager, improving your building's sustainability and ecofriendliness is becoming increasingly worthwhile.
Current research from the UK is showing us that 49 per cent of people surveyed said they would be more likely to buy or rent an eco-conscious home. Twenty-two per cent said the use of recycled and sustainable building products was an appealing sustainability feature.
Australian research showed that sustainable homes typically sold for ten per cent higher than their average counterparts. Sustainable properties also sold 13 days quicker. Further research from Finder.com.au recorded that 33 per cent of buyers would pay more for a property with solar panels.
With demand from buyers and tenants expected to drive the sustainable building movement forward, it only makes sense to improve the sustainability of your residential building now before it gets left behind.
1. Get lit up for less and improve your energy efficiency
Begin by assessing the current lighting situation in your building. Examine the use of natural light (are there opportunities for skylights?) and artificial light (what bulbs are installed?).
Think about replacing old fashioned globes with energy-efficient LEDs. They will also save you maintenance costs as they last approximately 50 times longer than a typical incandescent globe. Installing motion-detecting sensors in low traffic areas can also cut energy costs.
2. Reduce reliance on air conditioning and heating
Cooling and heating systems, like air conditioning units or ducted heating, produce hefty emissions, put a strain on the electricity grid and cost residents big dollars. In fact, ducted reverse cycle air conditioners top the list of energy-guzzling items in the average Australian home.
Consider natural ventilation options, sun-blocking blinds, or shaded windows as well as using smart building materials where possible.
3. Decrease water consumption
Saving water is made easy with eco-friendly products flooding the market (pun intended!). Your tenants can install dual-flush toilets, water-efficient taps, showerheads, dishwashers and washing machines. The products are designed to decrease water consumption without jeopardising water pressure.
Putting in place a plan for regular leak monitoring is also a smart move to save on water. Look out for leaking taps and toilets as well as the less obvious, like leaking air conditioning units, faulty irrigation or dodgy water wastage in the pool filtration system. A good time to spot water wastage is the time between 2am and 4.30am when most people are asleep and not using water facilities.
Consider installing water tanks and using collected rainwater to flush toilets, wash clothing and water landscaped areas.
4. Make the most of metering and monitoring
Across most of Australia, energy providers have rolled out 'smart meters' allowing residents access to detailed consumption data. The combination of hardware and software collects data and turns it into useful and actionable information.
If your building doesn't currently have smart meters, there are tech options out there that will do the job for you. Both Smappee and Sense are hardware options that work in real time with apps downloaded onto a mobile device.
5. Invest in renewable resources
Go off the expensive grid by investing in solar energy or wind power technologies for common areas. In one Perth apartment complex, residents can directly trade solar energy with each other. Using blockchain technology, residents who use more power can purchase energy of those that use less. This new paradigm is shifting the way residents think about energy production and is an attractive feature.
6. Start reducing, reusing and recycling
Start by only purchasing eco-friendly appliances which will save hundreds or thousands of dollars in the long term. By investing in quality products, appliances will last longer and stay out of landfills. The Energy Rating Calculator can help work out which model has the lowest total cost of ownership – considering the purchase price and the energy use over the next decade.
Consider implementing a communal composting program where scraps are used to make compost. In Sydney, there is currently an exciting food scraps trial happening with collection occurring from hundreds of apartments and houses. A successful trial could see a more widespread rollout. Watch this space!
Another option is starting an onsite recycling depot for residents with more than the common recycling bin options. Think about including bins for the usual suspects, plus batteries, light globes, mobile phones and other e-waste, and clothing.
7. Go low-tox
It's not just cleaning products that can go green, using eco-friendly building materials and non-toxic or low-emission materials, like low VOC paint, will also reduce contaminants released into the environment.
Check with your property maintenance contractors to establish if sustainability is an issue that is important to them. Ensure that they have high standards of environmental performance so that you can assure residents of their commitment.
Need to know more about how you can sustainably maintain your property, including increasing the longevity of your paintwork? Download our free guide now.
Higgins Coatings is Australia's premier commercial painting contractor with over 70 years of experience in providing a cost-effective painting service and tailored maintenance solution. We help strata managers plan their painting requirements and execute them with minimal disruption to residents. Contact us for a consultation.