Painting maintenance agreements are a big topic at the moment. These agreements are structured to paint and maintain a building or structure over a set period of years. Payments are generally spread evenly over the term of the agreement, which enables the customer to budget accordingly for their painting needs. In this post, we will be busting some myths about long-term painting maintenance agreements and enabling you to make a more informed decision when looking at entering into one.
Firstly, what are painting maintenance agreements? In a nutshell, they're a scheduled painting service over a term of 5-7 years that provides selected repaints and paint maintenance works that ensures your structures are protected. They are designed to provide long-term cost savings by maximising the life of the existing painted surfaces and eliminate costly repaints.
The image below highlights some ways the costs and maintenance can be laid over the agreed term. As you can see, there's no one size fits all approach to painting maintenance plans and they can be tailored, within reason, to individual requirements.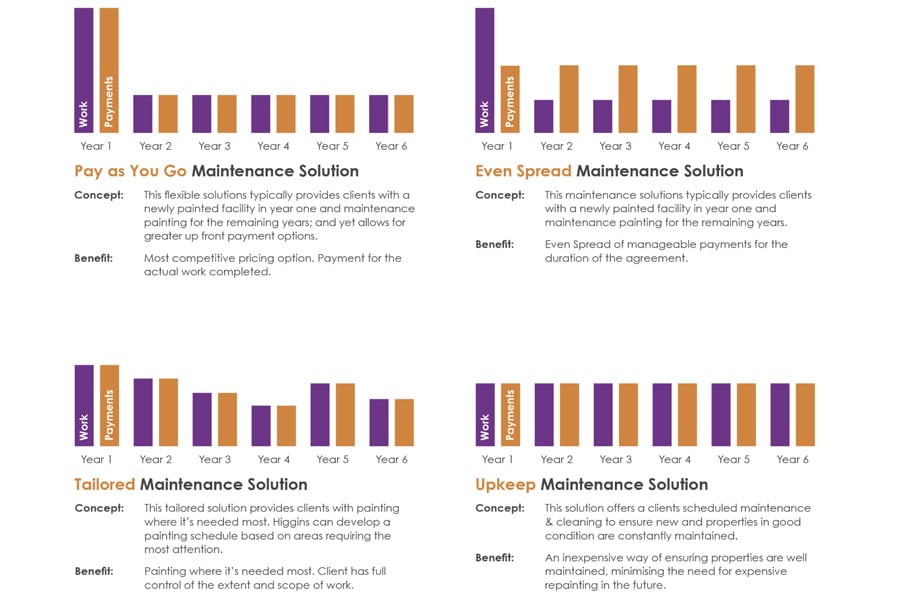 Now you understand what painting and maintenance agreements actually are, and what they can look like in practice, it's time to bust some myths.
Myth #1: A lower up-front cost is the only benefit of a painting maintenance plan
There is an assumption that painting maintenance plans are only used to fix a budget issue. In essence, you can pay a specified sum upfront and then trail some smaller amounts for the next 5 years for maintenance works, which helps to budget for the long-term and improve ongoing cash flow. And of course, paying for preventative maintenance over time, rather than upfront, is certainly a huge benefit.
However, there are more advantages to deferred payment that are worth your consideration. Ongoing maintenance keeps your buildings in excellent condition well beyond the original works. This means your building continues to both look good and maintains your warranty. Plus, you have a long-term partner caring for your building for the period of the contract.
Other benefits include:
Peace of mind that the painted surfaces will be maintained regularly, reducing the risk of paint breakdown, concrete remedial works and corrosion of steel surfaces
Better budget planning because you know the annual costs for the next 5-7 years, so there shouldn't be any nasty surprises along the way
Easier to plan and notify owners/tenants of works that may disrupt their daily lives.
Myth #2: A maintenance plan costs more than all of the individual projects that make it up
Deferred payment plans do not cost 100% more than projects of the same size. Painting maintenance plans have additional financial implications as contractors, such as Higgins, carry the cost of works done upfront over the term of the contract, which can add annual increases in labour and materials over the term of the agreement. However, this should not be more than 4% each year and is worth it if it saves you remedial works in the long run.
In some scenarios, maintenance agreements can actually cost less than when undertaking the job as a project. For instance, with a deferred payment contract, all maintenance jobs can be finished in a single stage. This means that any resources required, like access equipment, only need to be delivered and used in one occasion – resulting in significant savings for the property or strata manager.
Of course, circumstances can vary based on the property. We suggest anyone considering a painting maintenance agreement should conduct their own research and seek the advice of an accountant or finance professional before moving forward.
Myth #3: You'll need to employ a project manager to keep an eye on your contractor because they use subcontractors
The entire point of hiring a reputable company to execute a long-term painting and maintenance plan on your building is to ensure quality work. The idea that you'd need to hire a project manager to safeguard and certify the quality of work defies the purpose of a maintenance agreement entirely. Established and respected painting and maintenance providers have tight processes and dedicated teams to deliver works, and if they didn't, their reputation would be ruined, and they'd be out of business.
Maintenance agreements are a great option for any business looking for a true painting and maintenance solution that will keep owners happy and buildings in tip-top condition, while not putting too much up-front stress. However, we strongly recommend you conduct your own research to make sure it's the right option for you. We're very happy to put you in contact with one of our experts who can explain all of the pros and cons associated with engaging in a deferred painting agreement.
To learn more about maintaining your painted property and the steps involved, download our Maintaining your Painted Property guide today!
Higgins Coatings is Australia's premier commercial painting contractor with over 70 years of experience in providing cost-effective painting and tailored maintenance solutions to a broad range of industries including hospitals, aged care, schools, and strata. If you need quality painting services delivered on time and within budget, contact us today for a consultation.