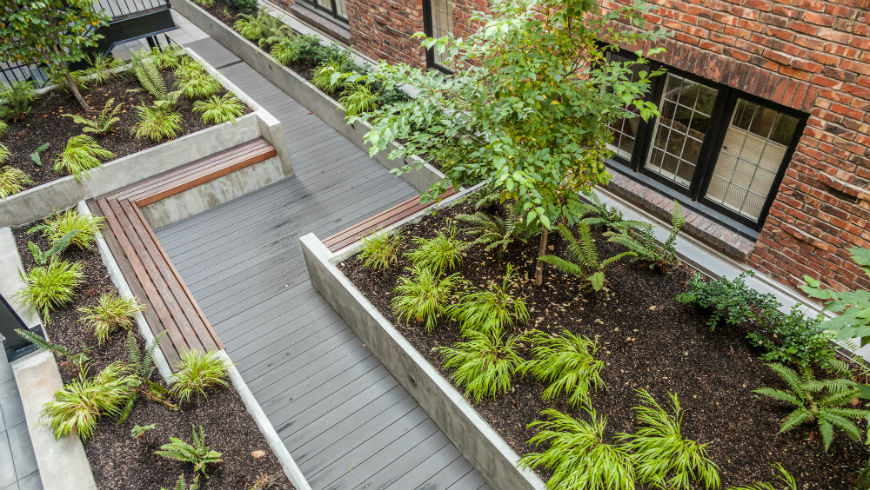 As a Strata Manager, one of your responsibilities is keeping your property in working order. But "working order" is a fairly subjective term – that old elevator might groan and creak like a haunted house in a bad horror film, and you might need to pack a snack to sustain yourself for the length of time it takes to get to your floor, but as long as it gets you there eventually, then it's still fine, right?
While some Strata Managers try to manage budgets by doing only the absolute essentials in property maintenance, it becomes evident to owners and residents when properties aren't getting the TLC they deserve. This lack of TLC can actually have a negative impact on the value of the resident's properties within the complex, something nobody wants.
By being proactive and having just a little creativity, you can implement some specific maintenance projects that don't just keep things "in working order", but actually increase the value of the strata property. Sure, these projects might require asking the body corporate to dip into the sinking fund a little – but the ROI you'll get on these projects will make the investment well worth it, and keep everyone happy.
Here are 3 ideas for maintenance projects that will increase your strata property value.
1. Give interiors and exteriors a facelift
First impressions count, and even simple maintenance projects, like painting or re-carpeting, can do wonders when it comes to transforming a space, ensuring your property always puts its best foot forward. Bonus points (and a bigger ROI) if you can improve the function of a space, as well as the appearance (see our ideas below for inspiration).
Here are just a few ways you can get your property looking brand new – inside and out.
Update your colour scheme: Is your property looking a little dated? Breathe new life into it by upgrading the paintwork with a fresh, modern colour scheme. (Be sure to check out our top tips for selecting the perfect paint colour for your building.)
Re-carpet or retile common areas: Just like a new coat of paint, re-carpeting or retiling common areas, like the lobby or hallways, instantly makes a space feel revitalised.
Create or revamp communal outdoor areas: Upgrades that improve the lifestyle of residents deliver especially good ROI, and building or revamping outdoor common areas are one such upgrade. You could implement projects like improving the landscaping in order to make an area a more appealing space to enjoy leisure time, or creating functional spaces like BBQ or play areas.
Upgrade balconies: Balconies are one of the first things people see on a property, so if they're looking a little outdated or worse for wear, this can have a huge effect on how a property is perceived. While a major project like this does require a more substantial withdrawal from the sinking fund, it does also deliver a lot of personal benefit to the owners and residents themselves, not just in monetary value but also in lifestyle improvements. Use the opportunity to expand the area or install cover to make the space even more functional and attractive to potential residents.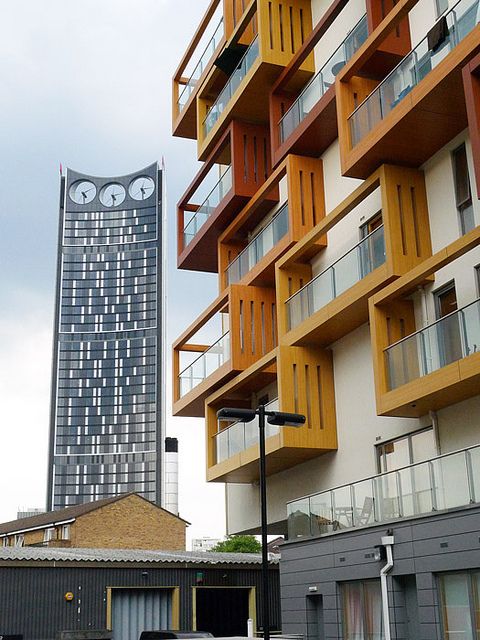 When done well, balconies can be a real design feature of your property
2. Make your property contemporary
A fresh coat of paint is a great way to spruce up a property, but outdated features, like an old elevator or unsecured entrance, can quickly undo all those initial good impressions. Implementing the latest technologies and features doesn't just instantly improve the property's functionality, but they also make it appear more stylish, cutting edge and well maintained.
Here are a few ways you can get your property up-to-date.
Upgrade the elevators: We've all been in old elevators where we weren't sure we'd make it to the desired floor – not such a pleasant experience, is it? Installing a modern elevator instantly adds value to a property, particularly as it is something residents use every day. Consider installing elevators with added security features, like cameras or access control systems, to further enhance the value of the upgrade.
Install a secure entrance door: Older apartment blocks often don't have secure entrances, which can be off-putting to potential buyers or tenants, particularly if the property is located in an inner-city suburb. When split between all the owners, such an investment is relatively inexpensive, but will add a lot of value to the property.
Add other security measures: Entrance doors are not the only feature that could benefit from a security upgrade. You could also consider installing secure letterboxes, to help protect the privacy of residents, or a video door-phone, so residents can easily identify visitors.
3. Go green
People today are more concerned about climate change than ever, with many consciously making more environmentally friendly choices in their everyday lives. These types of choices include what people buy, where people work and how people commute. So why wouldn't it also influence where they live?
Stratas that make efforts to be more green are certainly more appealing to residents who wish to live more sustainably, but they also enjoy other benefits, such as reduced energy use and lowered utility bills.
Here are a few ways to make your property more sustainable.
Update lighting: Replacing lights bulbs with energy-efficient lighting and making more use of natural light by installing windows and skylights can dramatically reduce electricity use. One example of a property that has made excellent use of natural light is One Central Park, which has a cantilevered heliostat as one of the building's defining features. This uses motorised mirrors to reflect sunlight onto a cantilever, which in turn distributes the light throughout the building, reducing the need for electric lighting.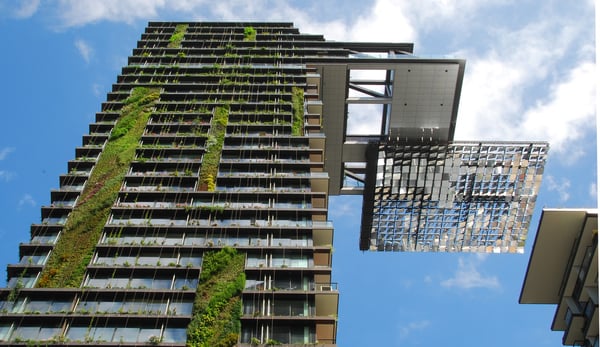 Start a communal garden: A communal vegetable garden not only prevents residents from making unnecessary trips to the shops, thereby saving money and energy use, but it also makes the property look more attractive, and is a lovely way to bring the community together.
Introduce a composting system: Introducing a composting system not only helps residents reduce the amount of waste going to landfill, but also keeps the property supplied with natural, organic fertilizer to keep the gardens looking lush year round.
Want even more great tips on how to keep your strata property looking its best? Then download The Strata Manager's Guide to Painted Properties, to learn how to manage budgets, keep residents happy and make paintwork last longer than the industry average.
Higgins Coatings is Australia's premier commercial painting contractor with over 70 years of experience in providing a cost-effective painting service and tailored maintenance solution.