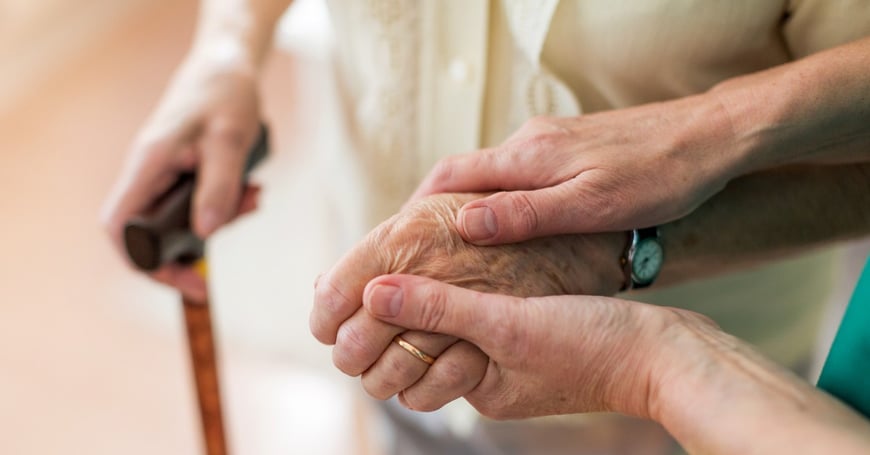 When selecting a painting contractor for aged care and retirement village facilities, there are important criteria that need to be met to ensure the project runs as smoothly and safely as possible. While there are similarities between aged care and retirement village facilities there are also some key differences that your painting contractors should be aware of. That's why you need the right team of contractors with industry-specific experience - so that the painting of your facility can be done on time, within budget and with minimal disruption to residents and staff.
Engaging skilled painting contractors from reputable companies will mean they have an environment-appropriate and informed approach. Below, we outline the different considerations that your contractors should recognise when painting in either aged care or retirement villages.
Accessibility
Ensuring safe access for residents and staff in aged care facilities and retirement villages is paramount. In retirement villages, residents are generally more active within the village, while in higher-care living, they are more stationary within their wards or rooms. These differences need to be acknowledged and contractors need to constantly uphold communication with facility managers to make sure the environment is safe for everyone accessing the premises.
For some projects, it's necessary to implement Elevated Working Platforms (EWPs) so contractors can safely and efficiently work in areas without posing risks or major disruptions to residents and staff. These can be used for main entrances or thoroughfares in both aged care facilities and retirement villages. Further safety measures should include comprehensive risk assessments conducted before the project and updated throughout, setting up exclusion zones for EWPs that meet safety and accessibility demands, and securing temporary anchor points for EWPs where necessary, like when working from roofs to ensure safe access.
Timeframes & flexibility
It's important that your contractors understand the variable timeframes when working in aged care facilities and retirement villages. That's where fluid work schedules (FWSs) come in handy. These schedules are created through close coordination with facility managers to ensure the project is delivered in an efficient manner with minimal disruption, while still being able to accommodate for any changes that may arise.
In aged care facilities, FWSs are particularly useful because it's sometimes necessary to work night shifts that don't interfere with the routine of residents and staff. What's more, there is often a high demand for beds in aged care facilities, so rooms are required to be repainted and filled within two days of becoming vacant. Having professional contractors with industry-specific experience who understand these requirements and can duly respond to them will help ensure the best outcome of your painting project.
The safe use of tools
Your contractors should have systems in place to ensure that all tools are accounted for and used with the highest level of safety. This includes daily tool check-ins to make sure none have gone missing, locking tools away during breaks, and tethering tools to contractors' belt clips to avoid them being misplaced or ending up in the wrong hands.
It also pays for contractors to have an on-site foreman, especially in higher-care areas to maintain close control over all safety measures and sudden changes. In aged care facilities, it's also important that your contractors are always working with a spotter. This provides an added level of safety in this sensitive environment to ensure no residents come into harm's way, and so the rest of the team can focus on completing the paintwork. This gives both contractors and facility managers peace of mind that someone's full attention is dedicated to looking out for the safety of all parties at all times.
Industry-specific understanding
Deploying contractors with experience working in aged care and retirement villages is extremely beneficial for facility managers. In retirement villages, the right contractors will recognise the importance of minimising their impact on the lifestyles of mobile and independent residents and can coordinate their work accordingly.
For aged care facilities, the right team of painting contractors will be better equipped to respond to industry-specific challenges, through their knowledge of working in an environment where people may be more vulnerable or health-compromised. For example, there are specific procedures and requirements for working in dementia wards within aged care facilities. This includes working in more secured areas to make sure that no residents leave with contractors and locking rooms where possible, as well as using fewer tools and attaching them to contractors so they're easier to keep track of. And importantly, they work very closely with aged care workers and facility managers to ensure the highest degree of safety is achieved from start to finish.
It's crucial to ensure that your painting contractors are skilled and experienced in the industry before they come on-site. Knowing your contractors understand the specific requirements when painting in aged care and retirement village facilities means you'll benefit from a reliable, trustworthy, and top-tier service.
When planning a painting project for your aged care or retirement facility, it's paramount that you and your contractors minimise disruptions and look out for the health and safety of your residents and staff. Download our Guide to Painting Aged Care & Retirement Facilities to learn how to safely and successfully manage your next project.
Higgins Coatings is a premier contractor for painting and refurbishment services throughout Australia. We understand the specific needs of retirement living and aged care facilities and can help you turnover rooms and units within your facility quickly and safely. Higgins has an ISO tri-certification accreditation in safety, quality and the environment. Contact us today for a quote