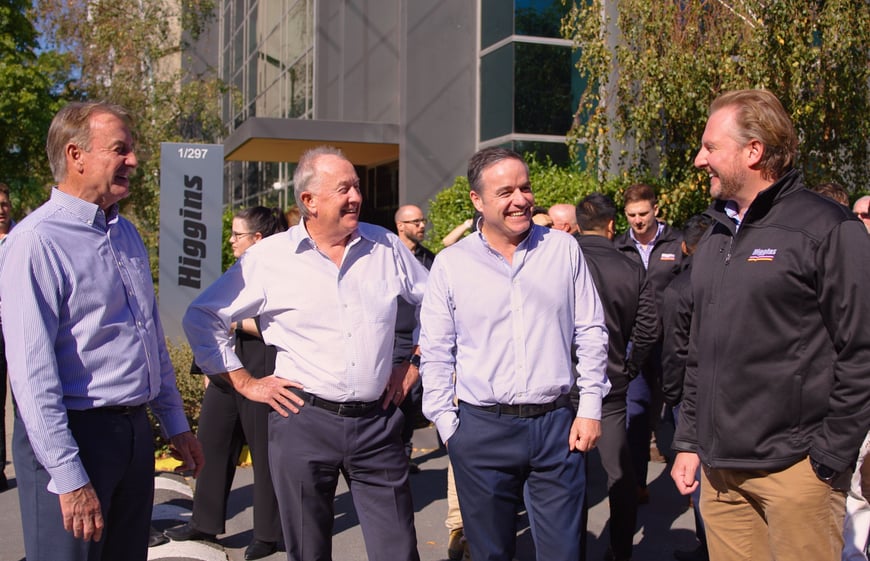 When you look at successful organisations, they typically have one thing in common – they're committed to building culture across their company. A good culture has many flow-on effects that contribute to improved organisational performance, greater profitability, and a competitive edge. At Higgins, we believe that our company culture sets us apart and has enabled us to become a trusted name across the country.
As our General Manager of HR and Safety, Michael O'Shaughnessy, puts it, "Culture is a critical component to the success of any organisation as it sets expectations for how people behave and work together, and how they function as a team. A strong culture breaks down boundaries, guides decision making, and improves outcomes."
"We built our culture from the ground up by defining what values and behaviours we wished to include in our culture code based on conversations with every single branch. This resulted in our CUES: Commitment, Unity, Excellence and Safety framework," says Michael.
"In every branch, our CUES are on display. They're on posters placed all around the offices and are communicated at the start of each branch meeting and project briefing. Our commitment to building and strengthening a positive culture has helped us grow as a painting family, and bring our passion and dedication to high-quality paintwork to communities right across Australia."
As a company, we're committed to building a strong and healthy culture that creates a positive experience for every single staff member and contributes to our overall success. This is how we're doing it.
We're committed to training, development and learning
Building a strong culture that incorporates ongoing learning can open up new opportunities and allow each employee to hone their craft, helping to attract and retain top talent. At Higgins, we see the value in each individual's professional development, which is why we invest heavily in mentoring and apprenticeship programs that provide our employees with advice, feedback and meaningful coaching. We also go out of our way to recognise and reward internal champions within our company, encouraging people to develop their skills even more. By showing this commitment to staff education and development, our people are more likely to stay with us for longer.
"For me, a large part of how we build culture at Higgins is acknowledging and rewarding talent and commendable behaviour. If we see something positive, we reward it. And we encourage every member of the organisation to challenge us and ask us questions because all of us - from apprentice to branch manager - believe we can never stop learning," says Michael.
Every Higgins branch has a yearly session that focuses on positive reinforcement and our continuous culture cycle. This is a framework that involves team workshops, reviews and follow-ups, where we welcome and encourage everyone's input. Then we make incremental improvements to our organisational processes, empowering our team members along the way.

Adapted from Performance by Design's 'The Continuous Culture Cycle' graphic
We're committed to good work and high-quality finishes
Since our ethos is built on providing high-quality paintwork for our customers, we make a special effort to weave this into our culture at Higgins, so that every staff member is an advocate for our commitment to great-quality, top-notch finishes. In fact, a healthy working culture has been shown to increase staff engagement and heighten their commitment to doing excellent work. This is because engaged employees have a positive attitude towards their work which in turn contributes to an increase in performance.
"Through our active effort to maintain high levels of engagement, our employees have more energy, uphold higher levels of safety, and are more focused on our organisational goals," says Michael.
"This generates greater customer satisfaction and loyalty."
We're committed to safety
Safety is at the core of what we do. It's critical for our personnel, for our clients and for anybody else in or around our job sites. We demonstrate that safety is our top priority by having regular worksite safety toolbox talks to ensure each contractor is aware of potential hazards and knows what to do to mitigate them. We also aim to use sustainable, eco-friendly products to provide a safer environment for both our employees and customers. This helps to reassure our employees and make them feel valued, which comes through in the quality of work they deliver.
The interplay of safety, high-quality work and a clear commitment to training and professional development has contributed to the positive workplace culture at Higgins, as well as our openness to receiving input from everyone, at every level of the organisation.
Whether you're already working with a painting and maintenance contractor, or you're in the process of sourcing providers, our essential guide to WHS contractor management will help you meet Australian industry regulations and ensure site safety. Download it today.