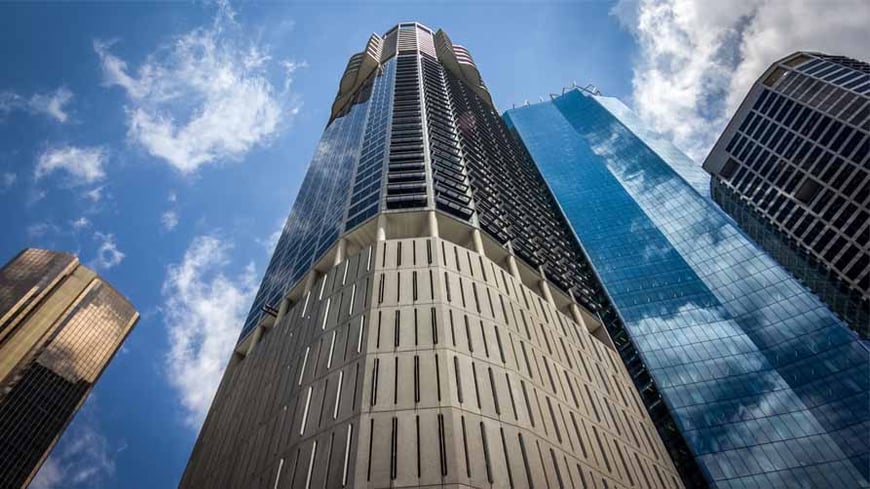 Abseiling 250m high in the Brisbane sky is not a job for the faint hearted, so lucky it's all in a days' work for abseilers Jack Darcy & Chris Trengove.
The two will reach great heights as they complete painting works on the iconic Riparian Plaza, situated in the heart of the Golden Triangle of the CBD. The focus of the coming weeks will be the communication spire that sits atop of what was once Brisbane's tallest building.
The painting of the spire is part of the external repaint and maintenance of the entire building – a complex job that involves a suite of abseil, mobile scaffold, elevated work platforms and swing stage access and strict safety compliance to complete.
The men have a number of qualifications including IRATA (International Rope Access Trade Association), ARAA (Australian Rope Access Association) and Working at Heights.
"This is the tallest building I've worked on. Most buildings in the city are much smaller, so having the opportunity to work on such an iconic Brisbane landmark is an amazing opportunity," Chris said. "The view is pretty good too!"
Over 5000 litres of paint is being used for the rejuvenation, with over 7000 man hours required from the Higgins team to complete the job. The last lick of paint is expected to be applied around May 2017.
"Having the opportunity to complete works on this iconic building is very exciting for our company. Executing volume, managing complexity and meeting the expectations of all stakeholders will be a great challenge for our business - one we are 100% committed to," Higgins Brisbane Branch Manager, Cameron Steindl said.
"It's a great compliment for our business that we have been given the opportunity to associate our brand with the prestige that is Riparian Plaza."
Designed by award winning architect Harry Seidler and completed in 2005, Riparian Plaza is one of Brisbane's most unique landmarks and one of the tallest buildings in the city skyline. Comprising of 53 levels of premium office accommodation, luxury apartments, retail and multi-level car parking, the tower was constructed on the last remaining absolute CBD riverfront sites.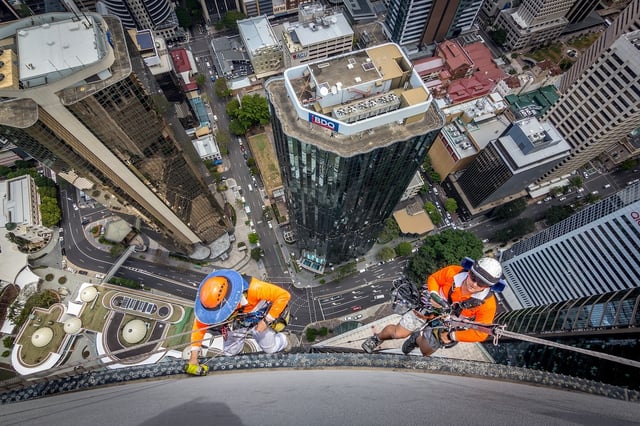 Image Credits: Virtual Productions