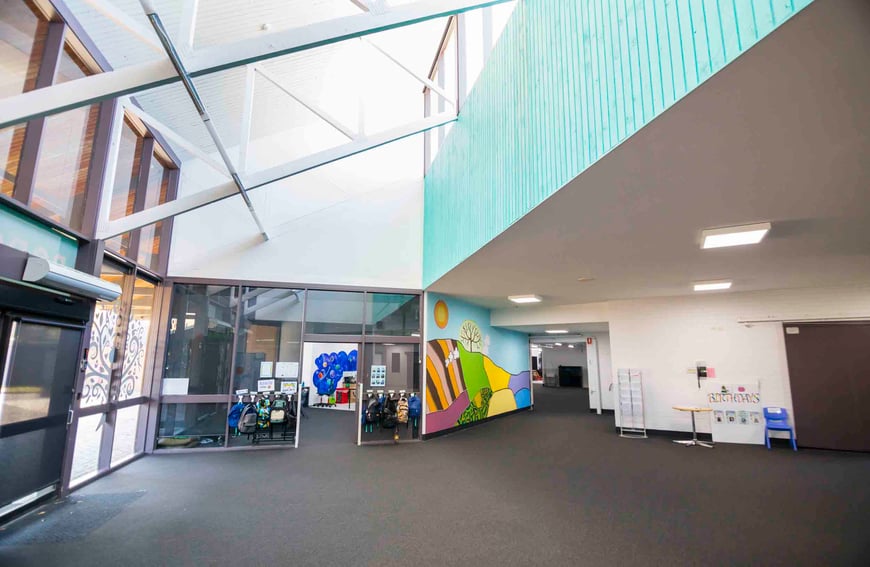 Contributions from parents and the community are the largest revenue source for Australian independent schools, making up an average 57 percent of their income. Of this majority, 93 percent is from enrolment fees, with the remaining seven percent coming from donations, investments and fundraising. In other words, independent schools rely on enrolment fees as their primary source of revenue. So of course it makes sense to do everything you can to boost school enrolments.
These 6 tips will help you increase school enrolment fees by elevating the value - both actual and perceived - of your school.
1. Impress prospective parents with a modern and well-kept campus
First impressions count. It's important that the sense of pride in the school is conveyed clearly with the presentation of the site. A clean, fresh, innovative and well-kept campus will encourage prospective parents to send their children to the school. Investing in a credible painting and maintenance partner, who will ensure the interior and exterior areas of the school are always at a high standard, is essential.
The esteemed Redeemer Lutheran College in Brisbane contracted Higgins for a five-year painting maintenance plan to ensure the high standard of their facilities. Take a look at the results here. Or download our handy checklist for requesting a school painting quote and start planning your project today.
2. Compel students and parents to recruit new students
Once your school campus is looking its best, encourage students and parents to bring their friends and extended family to visit. Incentivise both students and parents to invite prospective parents and students to experience the atmosphere and environment of your school through extracurricular events and open days. The referrals from these prospects will have a stronger likelihood of converting to more enrolments.
3. Enforce a target quota and waiting lists to inflate pricing demand
Pricing is elastic. The more demand there is to attend your school, the more pricing elasticity you will have to raise prices. Publicise the 'quota' system that you have for your school to provoke demand that can help justify your increased prices. Additionally, promote the fact that students will be 'missing out on the opportunity' to be a part of the school experience and secure their future if they don't enrol now.
4. Give parents different payment options
Everyone's budget is different. And while it is good to target the high income earners, the flexibility of different pricing options will open your doors to a wider range of prospective parents and students, who will still be a good fit for your school. By removing any financial barriers that families may have towards paying for a private education, such as cash flow concerns, you can focus instead on the added value that your school provides, rather than getting distracted by price. A few pricing strategies include:
Bulk discounts for larger families
Smaller payments, but more instalments
Upfront discounts
Promoting the enrolment fees as discounted compared to the school's investment costs (e.g. $5 million has been invested into improving the school environment over the last 5 years. Students can secure enrolments in this leading learning institution from $5000 per year.)
5. Hereditary qualification to attend the school
Many schools encourage the 'family tradition' to facilitate enrolment loyalty to the school. This includes schools that have 'Old boys' and 'Old girls' associations, as well as offering their students' future children automatic placement in the school.
6. Offer scholarship incentive programs for students to qualify
Scholarships offer an element of prestige to the school. It creates the opportunity to secure enrolments in exchange for the school receiving talented students. It also facilitates demand and exposure for the school, and is a clever way to gain a qualified lead generation from parents that have a strong desire to send their child to your school. A customised enrolment package may be developed to secure the enrolment from the scholarship applicant attendees.
These are a few strategies that you can use to add value to increase enrolment fees to your school. Higgins Coatings is committed to enhancing the profile of Australian independent schools to achieve prestige and excellence.
To learn more tips and tricks for managing your school, including developing an enviable school culture, making memorable first impressions and driving student engagement, download our free Guide to School Management.
Higgins Coatings provides Australia's schools with building maintenance plans, commercial painting, and refurbishment services in select areas. We understand that school facilities need to make a good impression on parents, students, and alumni at all times. Our preventative maintenance plans are designed to keep your school or educational facility looking its best while working within your timing, budget, and safety requirements. Higgins has an ISO tri-certification accreditation in safety, quality and the environment. Contact us today to learn more about our school painting maintenance solutions.
Originally published on 5 October 2015. Updated on 23 March 2021.