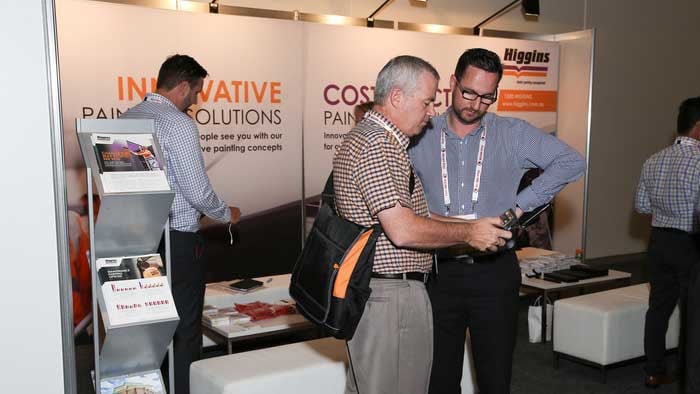 We're excited to be supporting the Association of School Business Administrators (ASBA) as one of six National Strategic Partners. This year's conference Chart Your Course is set to help you to reach your destination of a successful and sustainable school.
During the September 25th-27th conference at Sydney's $1.5 billion upgraded International Convention Centre in Darling Harbour, our friendly team will be there to answer all of your painting and maintenance solution questions. We're serious about helping your school make the right choice that will keep it sustainable, strategic and safe. To learn more, visit our stand at the main entry of the exhibition hall.
Visit us before Wednesday and you'll can go into the draw to win an incredible personalised creation from world class performance artist Sarah Rowan Dahl.
Sarah is a performance painter. She's been inspiring audiences for the past decade with an energetic creative buzz and colourful canvases.
Our lucky winner will be able to guide Sarah's colour choices to custom-create a piece of art during her live session on stage during the Wednesday lunch break. All you have to do to enter is come visit our stand and fill out a registration form!
With 33 inspiring and down-to-business speakers you're set to walk away with tips and real information you can put into practice at your school. But not before a sneaky drink at the Nightcap, hosted by Higgins Coatings. All ASBA attendees are welcome, but places are limited.

Networking Nightcap at Cherry Bar in The Star Casino on September 26 from 9.30pm-12.30 am.
Keep an eye on your email for your exclusive link to reserve your spot. And if you're feeling extra lucky, don't miss going into our draw to win a 5-day holiday to Fiji! Leave the kids at home and jetset with the partner or a lucky friend and enjoy a week in the sunshine, courtesy of Higgins Coatings.
We're looking forward to seeing you there and getting to teach you more about why Higgins Coatings can offer the best painting and maintenance solution for your school.
In the meantime, check out the work we've done The Peninsula School in Victoria. They're ecstatic with the results we helped them to achieve on time, and on budget.